Archive ESL Europe Benelux Quake Live
Your way to EPS!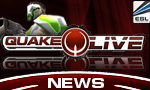 The first EPS Season for Quake Live kicked off last week. Eight top Benelux players are fighting for the title of Best Quake Live Benelux player! Who it will be, will be known end June. If you have what it takes to be a top Benelux player, do not hesitate to join our Amateur Series Ladder!
The road to EPS
I can imagine a lot of people do not really know how to reach EPS. It's simple... everything starts with joining our
Amateur Series Ladder
. Once you are accepted by an administrator, you can start challenging other players and one autoscheduled match will generated weekly. This is a match which is mandatory to play! In case your player doesn't show up, you have to make a protest.
SIGN UP!!!
At
Sunday 13/06/2010 23:59
a snapshot of the EAS Ladder will be taken. The player who is first then get a ticket straight into the 1st Division. The #2, #3 and #4 of the EAS ladder will play the #8, #7 and #6 from the 1st Division. To determine if those players get a spot in the 1st Division. So playing a lot of matches can help you reaching the 1st Division, the 1 step towards EPS!
Once in the 1st Division. You will play a premiership with the other 7 players. If you end 1st in the 1st Division, you get a straight ticket towards the next EPS Season. The players which ended #2, #3, #4 and #5 will qualify for the next first division season OR the Playoffs. As mentioned above, the #6, #7 and #8 of the 1st Division will play the #2, #3 and #4 of the EAS.
Once you reached EPS, the only task you have is reaching the top4 to secure your next spot in the next EPS Season. The number #5, #6, #7 and #8 will qualify for the Playoffs which are held after 2 1st Division Seasons.
So, if you want to reach EPS, do
not
hesitate to join our EAS Ladder and start playing!

No comments yet.

Information:
info write comment not allowed