Archive ESL Europe Benelux ESL Pro Series
The fourth EPS game is...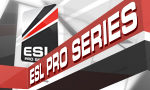 In order to become an ESL Pro Series game, the game needs to have an active/healthy amateur-series. There are some other factors which are described in a previous news post.

The third game in the EPS4 is:

TrackMania Nations Forever
As I said in the previous post, both the Quake Live and Trackmania community impressed us in amount of sign ups. But due to limited budget we can only select one official game.
The decision was really hard since both admin teams and community's deserve to have an ESL Pro Series.
That's why WSquared decided to host a supported ESL PRO SERIES game. That game will be
Quake Live 1on1
. We will host an entire season of epic matches, we are working on a hardware package of prices and we will host LAN finales. We'll do our best to achieve this, so stay tuned for more information.
Regarding Trackmania, the signups are there. It is time to show us your activity!
Current EPS games
There are 4 game slots:


Counter-Strike 1.6 5on5 (
announcement
)


Call of Duty 4 5on5 (
announcement
)


Counter-Strike: Source 5on5 (
announcement
)


Trackmania Nations Forever (
announcement
)
How to qualify
It is simple, join the Amateur-Series and get to the top. The deadline and how many EAS teams will qualify for the playoffs is to be announced. Your TMNF admin team will make a proper announcement.
There will be no last moment cups
. The only way(!) to qualify is via the Trackmania 1on1 ESL Amateur-Series.

Signup
for the Trackmania EAS.
574370
, Sunday, 14/03/10 18:20


Information:
info write comment not allowed