Archive ESL Europe Benelux ASUS European Nations Championship
ASUS ENC 2010 in Vienna, Austria at 4th of June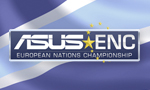 Ready for more national teams fighting? At 4th of June we have the next stop of the ASUS European Nations Championship 2010 in Austria. At the "SCS Multiplex Top 13" the Austrian national teams will have to face their opponents from the Main Round live in front of the audience. Be on the spot and support your teams!
European eSports at its best live in Austria!
The "SCS Multiplex Top 13" is only about 10 minutes outside of Vienna, the capital of Austria, so that a lot of people get to see some of the most important national matches of this year. At the SCS Multiplex Top 13 we will hold the event at the biggest hall of the cinema and present the matches for the audience.
Support the Austrian national teams!
On 4th of June it's time for all Austrian eSport fans to support their teams. After missing the finals in the last years, this could be a great chance to make your teams qualify for the playoffs. We will announce the exact matches as soon as possible so you can plan your trip in advance.
Stay also tuned for even more events being announced during the next days!
574370
, Thursday, 06/05/10 18:38


Information:
info write comment not allowed