Archive ESL Europe Balkans
ESL Balkan League 2013 - one region, one champion!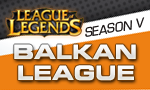 ESL Balkan League Season 5 starts now! League of Legends will be the main title of the fifth campaign! Sofia, Bulgaria will be host to the finals of the League of Legends Balkan League. The best 8 League of Legends teams across 12 countries will have the chance to match up during ON! Fest, where they will compete for a 5000 euro prize fund.
Main information
From the 20th to the 22nd of September the finals will be hosted on a huge gaming stage. For those willing to watch the finals live, the front stage area will have more than 500 seats on spot.

Supported by twitch.tv, the players will have a dedicated lounge, where they can rest, train, warm up and enjoy the catering services.

Qualifying countries and quotas are as follows


Bulgaria - 2 slots /ESL/
Greece - 1 slot /ESL/
Turkey - 1 slot /ESL/
Romania - 1 slot /ESL/
Croatia - 1 slot /ESL/
Serbia - 1 slot /e-frag.net/
Balkans - 1 slot* /ESL/

*There will be a mixed qualifier via esl.eu/balkans for Albania, Bosnia and Herzegovina, Kosovo, Montenegro, Slovenia, Macedonia, which will elect only one team for the 6 countries.

The qualifying process starts on the 22nd of August and will end until the 14th of September.

The grand finals will be on the 20, 21 and 22nd of September at Inter Expo Center.

Other gaming events at ON! Fest 2013 will be separate from the Balkan League.





More Information
More information about the festival and the qualifiers can be found at:
esl.eu/balkans & onfest.bg/en





Sponsors




General Sponsor







Main Sponsors













Supported by














Media Partner







GL HF, с уважение администраторския екип


Information:
info write comment not allowed